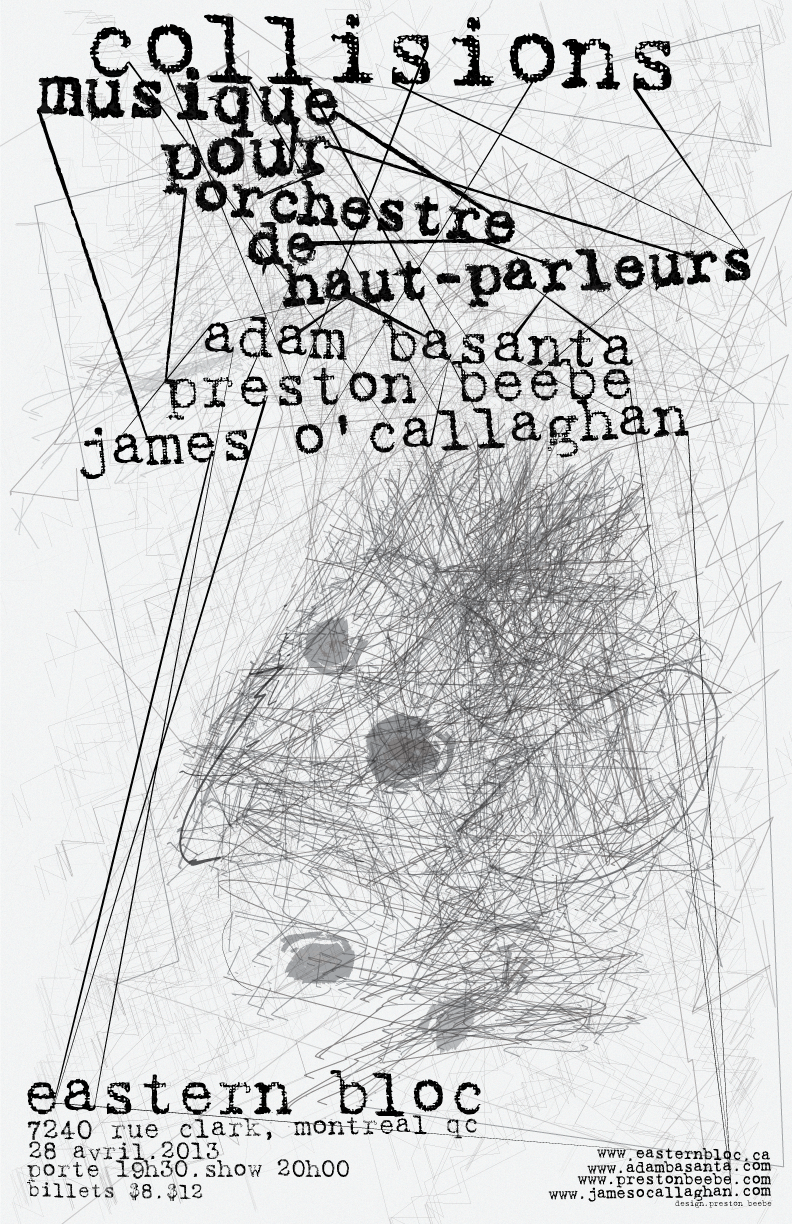 Collisions: musique pour orchestre de haut-parleurs
Adam Basanta, James O'Callaghan (Vancouver, C-B), et Preston Beebe (Sarasota, Floride) présentent une soirée de leurs compositions électroacoustiques avec un système de son surround 16-canaux, immergeant l'auditoire dans un panorama dynamique du son. Le programme comprend œuvres primés écrites pour haut-parleurs, diversement construites avec des sons d'instruments mainpulés au-delà de la reconnaissance de tous les jours, des objets trouvés, synthétiseurs et des soundscapes de l'environnement.
28 Avril, 19:30 – Eastern Bloc, 7240 rue Clarke. 8 $ artistes.étudiants / 12 $ admission générale
//
Adam Basanta, James O'Callaghan (Vancouver, BC), and Preston Beebe (Sarasota, FL) present an evening of their electroacoustic compositions in a 16-channel surround sound system, immersing the audience in a dynamic panorama of sound. The programme includes award-winning works written for loudspeakers, variously constructed with sounds of instruments warped beyond recognition, everyday found objects, synthesizers and environmental soundscapes.
28 April, 19:30 – Eastern Bloc, 7240 Rue Clarke. $8 artists.students / $12 general admission
www.easternbloc.ca
www.adambasanta.com
www.prestonbeebe.com
www.jamesocallaghan.com