VIEW SCORE – UNSOUNDING OBJECTS no.1
NOTES
Unsounding Objects: Compositional studies for the SpectraSurface Unsounding Objects is a series of studies for the SpectraSurface, which is a new digital percussion instrument developed by myself along with 2 other researchers (Ian Hatwick and Zachary Hale), funded by a research grant from CIRMMT (Centre for Interdisciplinary Research in Music Media and Technology). The SpectraSurface is a set of 4 playing surfaces contained within a suitcase and equipped with contact microphones. Found objects such as bowls, pipes, or toys are placed on top of the surfaces. The sounds from the contact mics are sent to a computer where they are analyzed for their important audio features; these features are then used to drive sound synthesis. The tradition of found objects in the percussion idiom (Henry Cowell, John Cage, Lou Harrison) offers a familiar interface with unique timbral and temporal characteristics which produce interesting results in the analysis-synthesis platform of Unsounding Objects.
About the SpectraSurface
The SpectraSurface is a digital musical instruments which uses the timbral qualities of pre-existing objects to drive sound synthesis and compositional structure during a musical performance. Non-musical objects are frequently integrated into contemporary percussion performance practice. Through audio feature extraction, these objects can be used as intuitive interfaces for the control of sound synthesis. Percussionists are accustomed to intimate control of timbre using a wide variety of performance techniques and the SpectraSurface expresses these expert techniques in order to allow for the intuitive control of digital musical instruments in a solo percussion composition.
Piezo contact microphones are commonly used to amplify acoustically inert objects for musical performance. For the SpectraSurface, 4 platforms were built and equipped with piezo-based contact mics. A variety of contrasting found objects are placed upon these platforms, and the sound is generated as these objects are used to control sound synthesis. The sound of the objects which are miked will not be amplified, but will have perceptually relevant audio features extracted from it.
The perceptual features are then be mapped to two intermediate mapping layers. The first layer will extract characteristics of the performers' gestures from the audio analysis and will be developed in tandem with the choice of instrumental gestures used for performance.
The second layer will be for collaborative control, in which performers will share joint control of synthesis. The parameters of this layer will be determined by the development of a compositional strategy. The varying timbral characteristics of the objects mean that identical mapping strategies and sound synthesis algorithms will produce different sonic results when played on different objects. One compositional approach will be to develop musical motives which will be transformed by the objects which they are played upon. Percussion compositions frequently employ open instrumentation (Xenakis' Psappha); we will employ this strategy in that which objects played are undetermined but mapping strategies and sound synthesis algorithms are predetermined.
We submitted the paper "Unsounding Objects: Audio Feature Extraction for Control of Sound Synthesis in a Digital Percussion Instrument" to the New Interfaces for Musical Expression conference; this paper focused on the analysis algorithms we developed, as well as a the use of audio feature extraction versus direct and indirect gesture acquisition for the control of sound synthesis. We also had a performance at the NIME 2014 conference.
One of our primary goals is the interdisciplinary development of the instrument (interface, feature extraction, mapping, sound synthesis) with the performance practice and the composition. To this end, we held weekly workshop meetings to inform our individual research during the course of the project. The final result of our research presents conclusions regarding optimal audio feature extraction algorithms, mapping strategies for the control of sound synthesis with perceptual audio features, and a series of composition studies for the SpectraSurface utilizing non-musical objects for control of sound synthesis and compositional structure.
---
PRESTON BEEBE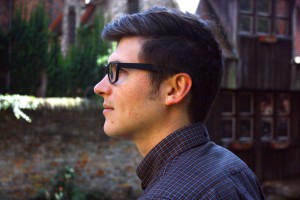 Preston Beebe is a Composer and Percussionist from Sarasota, Florida. He graduated from the University of South Florida with a Bachelor of Music degree in Music Composition, Percussion Performance, and Electronic Music. Preston is currently attending McGill University, Schulich School of Music for Graduate studies in Music Composition. At McGill, he has worked as a studio assistant for the Digital Composition Studio. Preston has studied Composition with Philippe Leroux, Michael Timpson, Paul Reller, and Chihchun Chi-sun Lee; percussion with Robert McCormick and Steve Davis. Along with Ian Hattwick and Zachary Hale, Preston is the recipient of the 2012-2013 CIRMMT grant: Director's Interdisciplinary Excellence Prize, which we will use to develop a new digital instrument and compose pieces for future performance. In April of 2011, Preston released an album of his acousmatic music entitled, Glisten. Preston has received awards in electronic music from the University of South Florida and McGill University. For the 2012-2013 year, Preston is composer in residence with the FACE Wind Ensemble.
As a percussionist, Preston can be heard performing with the McCormick Percussion Group on the albums, Music For Keyboard Percussions and Concerti For Strings With Percussion Orchestra, distributed through Naxos. In September 2012, with his percussion duo, 4eyes, he released the album entitled mountain.
ZACHARY HALE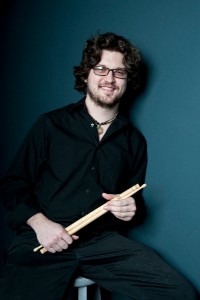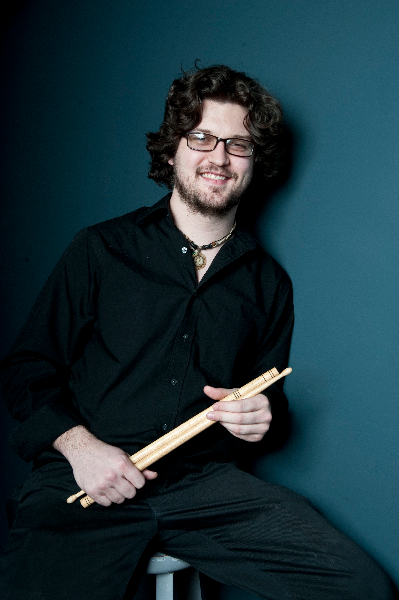 Zachary Hale is a Montreal based composer and percussionist.  He was born and raised in Winter Haven, FL, where he performed with many traveling artists and Broadway shows such as Legally Blonde, South Pacific, Don Rickles, Jerry Lewis, and Connie Francis. After receiving his Bachelor of Music degree in music composition, electronic music, and percussion performance at the University of South Florida he moved to Montréal to study percussion with Aiyun Huang and Fabrice Marandola at the Schulich School of Music of McGill University. Zachary's interest in the use of electronics and technology in relation to the performance practice of a percussionist was developed at McGill thanks to the Centre for Interdisciplinary Research in Music, Media, and Technology (CIRMMT). Along with Ian Hattwick and Preston Beebe, Zachary is the recipient of the 2012-2013 CIRMMT grant: Director's Interdisciplinary Excellence Prize, which they will use to develop a new composition and digital instrument for future performance. Currently Zachary is also the student representative of the CIRMMT Research Axis 6: Expanded Musical Practice. More information on performances and projects can be found at www.zachhalemusic.com.
IAN HATTWICK

Ian Hattwick designs and fabricates digital musical instruments and interactive artwork. With a background in improvisation and composition, he is interested in ways in which instruments can encourage performer interaction through hardware design and mapping strategies. Recent projects include the design of wireless interfaces worn by dancers in Les Gestes and software which maps performers' emotional states to a virtual sonic environments. He holds an MFA in Integrated Composition, Improvisation, and Technology from the University of California, Irvine and a BM in Jazz Composition from the University of Southern California. He is currently a PhD researcher in the Input Devices and Music Interaction Lab at McGill University.
---
———–
Performances
Unsounding Objects no.1-2
New Interfaces for Musical Expression (NIME)
July 1, 2015 // Goldsmiths Great Hall, University of London, England
http://www.nime.org/wp-publications/ihattwick12014/
Unsounding Objects no.1-2
Digital Composition Studio Concert
March 22, 2014 // Tanna Schulich Hall, McGill, Montreal
Unsounding Objects no.1-2
Percussive Arts Society International Convention 2013
November 13, 2013 – Indiana UniversityPurdue University Indianapolis
http://music.iupui.edu/research/pasictechday/pasictechdayprogramandschedule/
Unsounding Objects no.1
Mathematics and Computation in Music Conference 2013
June 13, 2013 – MMR McGill University
http://www.music.mcgill.ca/mcm2013/
Unsounding Objects no.1
live@CIRMMT: Student Symposium
May 23, 2013 – MMR McGill University
http://www.cirmmt.mcgill.ca/activities/generalassembly
Unsounding Objects no.1
Zachary Hale's Master's Recital
May 3, 2013 – Tanna Schulich Hall, McGill University
http://www.mcgill.ca/music/events/posts/07/11/2012/36325
Unsounding Objects no.1
Coast x Coast
April 30, 2013 – Canadian Music Center, Montreal
http://www.mcgill.ca/music/events/posts/07/11/2012/36325
Unsounding Objects no.1
live@CIRMMT: New Instruments
February 07, 2013 – MMR McGill University
http://www.cirmmt.mcgill.ca/activities/livecirmmt/instruments